Parc Natural del Delta de l`Ebre - Mirador de la Tancada - Raimundo
Delta de l'Ebre
(Terres de l'Ebre)

Return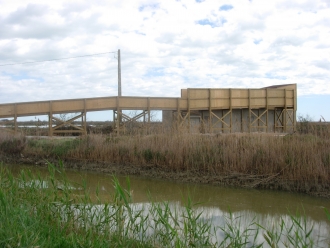 Address:
Avinguda Catalunya, 46 - Baix Ebre -- Deltebre (Tarragona)

Tel.:
(+34) 977 482 181

Fax:
(+34) 977 481 392



The Ebro Delta is the largest wetland in Catalonia; this presque-isle joined to the mainland by a sandbar is reminiscent of a vast triangle surrounded by water. A place where the boundaries between the sky and land, land and water, freshwater and saltwater, cultivated fields and wild vegetation are blurred.
Facilities and observations
This bird hide is located on the cycle path running along La Tancada Lagoon. It is named after the original building on top of which it was constructed, Caseta de Raimundo or Raimundo`s Hut. A ramp measuring 21 metres long and 1.05 metres wide with an average gradient of 6% has been built to provide wheelchair access to this 5-metre-high hide. The hide has a square floor plan (4x4m) and provides benches, ledges, windows and openings in three of its sides to facilitate bird watching. There is also an area for wheelchair users.

Specifications verified on-site for the Agencia Catalana de Turisme by accessibility consultants.


What else does this destination have to offer?