Parc Natural del Delta de l`Ebre - Itinerari i mirador de la llacuna de les Olles
Delta de l'Ebre
(Terres de l'Ebre)

Return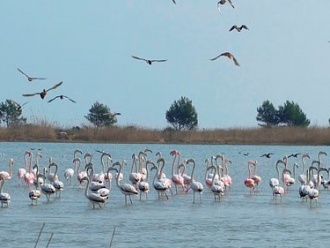 Address:
Avda. Catalunya, 46 -- Deltebre (Tarragona)

Tel.:
(+34) 977 482 181

Fax:
(+34) 977 481 392



The Ebro Delta is the largest wetland in Catalonia; this presque-isle joined to the mainland by a sandbar is reminiscent of a vast triangle surrounded by water. A place where the boundaries between the sky and land, land and water, freshwater and saltwater, cultivated fields and wild vegetation are blurred.
Facilities and observations
Les Olles lagoon route and viewing point. Interpretive routes around the area, an adapted circular route (3.5 km) for people with reduced mobility. At a height of four metres, the observatory at Les Olles lagoon is accessible to people with reduced mobility thanks to two ramps, 14.25 metres in length, equipped with the necessary rest landings.

Specifications verified on-site for the Agencia Catalana de Turisme by accessibility consultants.


What else does this destination have to offer?