Parc Natural dels Aiguamolls de l`Empordà
Costa Brava - Alt Empordà
(Costa Brava)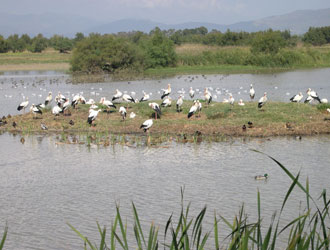 Address:
Carretera de Sant Pere Pescador, quilòmetre 13,6 (El Cortalet) - Alt Empordà -- Castelló d´Empúries (Girona)

Tel.:
(+34) 972 454 222

Fax:
(+34) 972 454 474



The Aiguamolls de l'Empordà Natural Park is the second largest wetland in Catalonia after the Ebro Delta.
These marshes once occupied the entire plain of Roses bay and the lower reaches of the Ter River; the Montgrí massif, between L'Escala and Torroella (the frontier between Alt and Baix Empordà), therefore rose like an island amid the waters.
The park is home to varied flora and fauna. Dwarf fan palms (shrubs capable of growing in salty ground), sea rushes, common reeds and salicornia are ubiquitous.
As far as wildlife is concerned, the park abounds in reptiles (Mediterranean turtles, Western three-toed skink and viperine water snakes), amphibians (different frogs and marbled newt), fish and mammals (rabbits, weasels, badgers and fallow deer). The park also features numerous and varied insects as well as the animals most typical of wetlands, birds; the latter may live here all year round or just for a season on their way southward in late summer or northward in spring.
Therefore, visitors can easily identify different species of ducks, grey herons, kingfishers and cattle egrets; they can also admire the marsh harrier in flight, the cormorant drying off its plumage as well as the elegance of long-legged birds, such as cranes, flamingos, wading birds and conspicuous storks, reintroduced into the park in the 1980s. Efforts to recover the last wetlands of the Empordà have also led to the successful reintroduction of others species such as the purple gallinule and the otter.
Facilities and observations
The route " El Cortalet-Mas del Matà (2 km)" and the route "Mas del Matà-Platja del Matà-Les Llaunes (2 km)" are more accessible to wheelchair users or people with reduced mobility on account of their topographical features. The route "El Cortalet-Estany Europa" presents greater difficulties.
Adapted toilet facilities are available at the visitors' centre in El Cortalet, and on the Mas del Matà-Platja del Matà-Les Llaunes route.
There are three observation decks that are accessible by way of wooden footbridges. The observation decks have a space for wheelchair users so they can get a closer view.

Specifications verified on-site for the Agencia Catalana de Turisme by accessibility consultants.


What else does this destination have to offer?