The Dalí Route, also known as the Dalí Triangle, links the towns of Púbol and Cadaqués with Figueres. At these three places you will find the keys to interpret the work of this quite peculiar Catalan painter.

Figueres is home to the Dalí Theatre-Museum, which is partially accessible to a people with reduced mobility. The capital of the county of Alt Empordà is marked by the exceptional personality of the Surrealist painter Salvador Dalí.

The Theatre-Museum and its annex, Torre Galatea, are two places well worth seeing, both outside and in. Moreover, visitors can pause at the Catalonia Toy Museum.

The Dalí Route forms a right-angled triangle with Figueres at the top. On one of the sides is Púbol, where you can visit the castle which the painter gave to his muse, accessible except for the crypt and the attic. On the other side of the Dalí triangle, in Portlligat, is Dalí and Gala's house, not accessible at present.

To end the route you can visit the Jewel Museum, the most accessible one of the Gala-Dalí Foundation.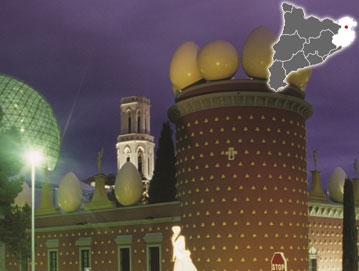 What does this destination have to offer?

Accommodations

Culture