25
El Montsec - Starlight
(Terres de Lleida)
The silhouette of the Montsec mountains which has gradually retreated and been drawn with the passage of time and the thrust of the rivers, which form truly spectacular gorges, such as Mont-rebei and Terradets, reminds us that two hundred million years ago the Montsec was part of the sea basin.

The area holds natural heritage of undeniable value, which has earned it the status of Natural Interest Site.
Montsec and its sky is one of the best places in the world for astronomical observation and to enjoy the starlight. As a Starlight Tourist Destination, Montsec boasts excellent amenities for contemplating the sky and engaging in related tourist activities.

Today, this destination is one of the best areas in Europe for freeflying thanks to its thermal currents and majestic cliffs.

The combination of thrills and sensations afforded by flying, the views enjoyed and the sense of relaxation that comes from flying makes seeing Montsec from the air an unforgettable experience.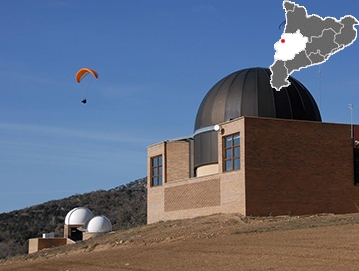 What does this destination have to offer?

Accommodations

Sports activities

Culture