24
Lloret de Mar
(Costa Brava)
Lloret's history, traditions and people have always been intertwined with the Mediterranean. The turquoise water, the natural environment and the golden sand make the beaches an irresistible attraction for thousands of visitors who come to the Costa Brava every year.

The town lies between the Punta de Sa Caravera and Sa Caleta, where six beaches are found, noteworthy among which are the beaches of Lloret and Fenals on account of their accessibility.

The town centre is home to the Parish Church of Sant Romà, built in 1522 and restored in 1910 by the architect from Lloret Bonaventura Conill, who annexed the Chapel of the Blessed Sacrament to the building, with a dome and Modernista (Catalan Art Nouveau) mosaics.

Two of the houses that retain the character of the historic, seafaring and colonial Lloret are Les Cases Garriga, which form a block. Today these buildings play host to the Tourist Office and the Maritime Museum, which affords us an insight into the spirit of Lloret and its relationship with the sea throughout history.

Equally attractive are the Gardens of Santa Clotilde, a natural park overlooking the sea, adorned with flowers and plants and with the refinement and taste characteristic of the Neoclassical Catalan style.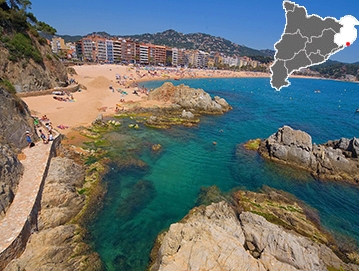 What does this destination have to offer?

Accommodations

Sun and beach

Culture