23
Parcs Naturals del Montseny i Sant Llorenç del Munt i l'Obac
(Paisatges de Barcelona)
Montseny is a mosaic of Mediterranean and Central European landscapes located next to some large metropolitan conurbations. Its extraordinary biodiversity and the cultural stamp mankind has left there over time give it a universal value that has inspired artists, intellectuals and scientists and which is reflected in the emotions of people who visit it.

What stands out are its prominent reliefs and rich ecological variety. That is why UNESCO declared it a biosphere reserve in 1978.

The Sant Llorenç del Munt i l'Obac Nature Park are found in the Catalan pre-coastal mountain range. The park is formed by the two mountain ranges that give it its name and which join at the Estenalles depression. Its rugged landscape, full of haughty crags and vegetation that mainly consists of holm-oak woods and pine groves, spread over the flat parts of the mountain or boxed in the ravines and channels, also offers a rich cultural heritage that bears witness to human settlement over the centuries.

A Special Park Plan was approved in July 1972 and in 1987 it was declared a nature park.

Considerable work has gone into making both nature parks' natural wealth and heritage more accessible to everyone.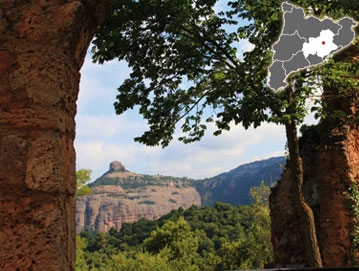 What does this destination have to offer?

Accommodations

Nature

Sports activities

Health and wellness