21
Terra Alta i Reserva Natural de Sebes
(Terres de l'Ebre)
The Terra Alta is an inland comarca with two municipalities and a large variety of landscapes. Its rural past and agriculture, which has traditionally been the main employer, has ensured the preservation of the landscape and a legacy of great cultural, human and heritage value.

Places like the El Port Nature Park, the Sierra de Pàndols mountains and the Fontcalda sites, to mention some of the main ones, form a real mosaic of colours, sensations and atmospheres, crossed by gastronomic, historic, religious, artistic and other routes that cannot fail to move visitors. The Peace Route, which covers the sites of the Battle of the Ebro, the Camino de Santiago (St James Way) Ebro route, the Arte al Raso (Low Level Art) sculpture route, the wine and oil routes, together with the paths of the Cycle Network are some of the ideas for discovering the Terra Alta.

Its main tourist attraction is the Vía Verde, or Green Way, which follows the route of the old railway line for 23.6 kilometres across the comarca. The central part is accessible to anyone, irrespective of physical status.

The Sebes and Flix Meander Wildlife Nature Reserve, with a surface area of 204 hectares, is a fluvial area which preserves a good example of aquatic and riverside vegetation. It includes the Sebes nature area, which is situated on the left bank of the Ebro river, above the Flix dam, where one of the largest reedbeds in Catalonia has formed and where a riverine wood, which grows in all its splendour on the river islands, is still preserved. The Wildlife Natural Reserve includes this wetland area, the river islands and a protective 60-metre strip of river surrounding it.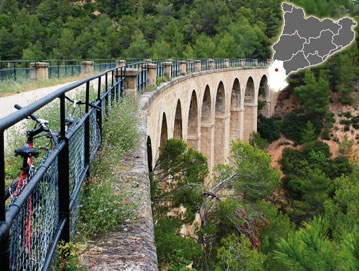 What does this destination have to offer?

Accommodations

Nature

Sports activities

Food and wine tourism