13
Turisme industrial
(Paisatges de Barcelona)
Accessible Industrial Tourism Route

Industrial tourism, like any form of cultural tourism, connects the present-day circumstances and historical evolution of a particular area, thereby providing an understanding of its current situation in an easy and enjoyable manner. Its multidisciplinary nature combines history, archaeology, sociology, architecture, urbanism, geography and technology.

Visiting museums, following industrial itineraries and routes and seeing for oneself the landscapes of these towns and villages provides insights into the history of the industrial revolution, transports you back in time and takes you right into the heart of the working-class world, both sociologically and technologically. Experience the sensation of becoming a miner, discover the remarkable force of water, feel the social control that governed model industrial settlements, learn the secrets of the bosses and workers, developments in crafts and trades and machinery, make paper with your own hands and much, much more.

Industrial tourism can stir strong emotions in the young and old alike and allows you to discover another world, Catalan industrial society which, because of its closeness to us in time, can easily be understood and appreciated. This is the great discovery of those who embark on industrial tourism: how to capture the world of grandparents and great-grandparents and feel the emotion of being able to understand them better.

The partnership between these municipalities offers the opportunity to learn about the enormous diversity in the land and in manufacturing in Catalonia and to discover its varied social legacy and heritage and their evolution in a more comprehensive and decentralised manner.

The Accessible Industrial Tourism Route takes in a selection of amenities and resources that enable everyone to enjoy all these experiences.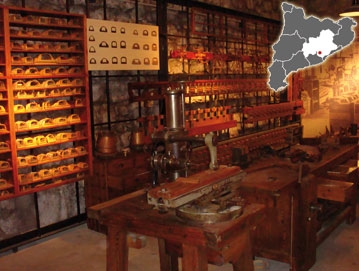 What does this destination have to offer?

Sports activities

Culture
Don't miss...


...