12
Ruta dels Monestirs del Camí de Sant Jaume de Catalunya
(Paisatges de Barcelona)
Montserrat is many things at the same time: it is a natural park, a museum and the sanctuary of the patron saint of Catalonia. The ride up to the abbey in the cog train is itself a tourist attraction due to the impressive views that can be seen as it makes its dramatic ascent. Once at the top, take the tourist train suitable for the disabled and enjoy a pleasant trip around the area.

Món Sant Benet is an innovative space where you can make the most of the cultural and leisure activities offered in an outstanding natural environment. The Monastery of Sant Benet is one of the few monuments that bear the mark of various different periods, from the late Middle Ages through to Modernisme (Art Nouveau).

The Monastery of Santa Maria de Bellpuig de les Avellanes, which stands close to the main route of the Way of Saint James, was founded in the 12th century and has a Romanesque cloister and Gothic church. Staying at the Monastery of Les Avellanes provides an opportunity to admire its unique location at the foot of the Sierra de Montsec in the lands of the Counts of Urgell.

The three monasteries are resources for pilgrims, offering facilities for people with disabilities or impaired mobility and fulfilling their commitment to provide hospitality and shelter for all who pass their way.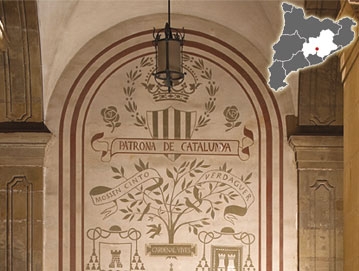 What does this destination have to offer?

Accommodations

Culture

Food and wine tourism
Don't miss...