CarpeGuiem
Barcelona
(Barcelona)

Return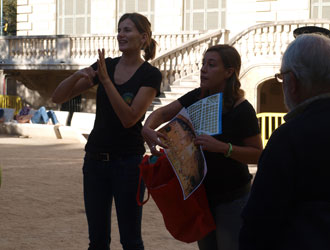 Address:
Barcelona (Barcelona)

Tel.:
(+34) 620 565 321



Adapted guided tours for children, teenagers and individuals with any kind of disability: visual and hearing impairments, physical and/or intellectual disabilities, etc.
Specialists in the organisation of cultural and recreational tours whose itinerary and discourse have been adapted accordingly: we bypass architectural barriers, we provide sign language interpretation and tactile models, we dress up and act out characters, etc.
We take care of every detail so that you can concentrate on relishing the discovery of all the places you are shown.
Facilities and observations
Sign language interpreters available.
Trained staff to assist the blind or the visually impaired available.
The itineraries are free of architectural barriers and the places visited are accessible.

Specifications verified on-site for the Agencia Catalana de Turisme by accessibility consultants.


What else does this destination have to offer?

Accommodations


Nature


Sun and beach


Sports activities


Culture


Leisure and entertainment


Food and wine tourism