Camins de Vent
Turisme industrial
(Paisatges de Barcelona)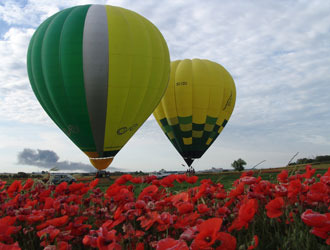 Address:
Aeròdrom d`Odena -- Igualada (Barcelona)

Tel.:
(+34) 629 385 757



This company offers hot air balloon rides across Catalonia, with flights generally setting off from Igualada.
Flying in a hot air balloon affords the sensation of floating in the air, engulfing you with a sense of serenity, letting yourself be carried by the wind.
An experience you will never forget.
Embark on a thrilling but safe adventure in a hot air balloon.
Facilities and observations
Adapted basket with a door.
Two hydraulic height-adjustable seats.
Adapted vehicle with room for one person.
No sign language interpreters.
No trained staff to assist the blind or the visually impaired.
Disabled persons must be accompanied and come with their own car and driver if the disability so requires.
The conditions must be agreed in advance by telephone.

Specifications verified on-site for the Agencia Catalana de Turisme by accessibility consultants.


What else does this destination have to offer?