Conèixer Montserrat
Ruta dels Monestirs del Camí de Sant Jaume de Catalunya
(Paisatges de Barcelona)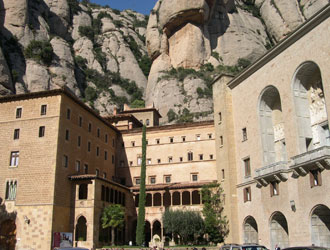 Address:
Abadia de Montserrat -- Monistrol de Montserrat (Barcelona)

Tel.:
(+34) 938 777 777



Montserrat is a unique place that brings spirituality, culture and nature together in an unrivalled setting: surrounded by an exceptional natural park, it is home to one of Spain?s foremost museums as well as the shrine dedicated to the patron saint of Catalonia.
Facilities and observations
Cog railway
The trains are adapted for people with reduced mobility and the platforms are at the same level as the floor of the trains.
Monistrol Vila is the main station, which has two parking areas for cars and coaches. A permanent exhibition on the cog railway is on display in a building adapted for people with reduced mobility.

Tourist train
Visitors can also get around on a tourist train which has been adapted for people with reduced mobility and the hearing impaired. It completes a circuit around the monastery and has stops in the car park, at the cog railway station, in front of the monastery and at the hotel. Daily service in summer and weekends only as from November.
Tour of the buildings
Adapted toilet facilities in the monastery.
Inclined platform lift to access the chapel.
Ramps to access the church.
Reserved parking spaces for the disabled.
No sign language interpreters. The blind must be accompanied.

Specifications verified on-site for the Agencia Catalana de Turisme by accessibility consultants.


What else does this destination have to offer?